Post by Barry Kresch
17,217 electric vehicles are now registered in Connecticut
This is a topline description of the new dataset. A more in-depth profile will be available when the EV dashboard is updated in a few weeks. The usual disclaimer: This is registrations (not sales). It is cumulative and net and includes new and used vehicles, as well as someone who already owns an EV who moved into the state. On the other hand, vehicles turn over all the time, and these exit the dataset.
The new count of EVs as of July 1 has been released by the Department of Motor Vehicles. The new count of 17,217 represents a 36% increase from the 12,624 one year ago. This is an improvement from the 18% 12-month growth rate we saw in January, but it still falls short of the level of growth needed achieve the 2030 goal of 500,000 electric vehicles set forth in the MultiState Zero Emission Vehicle Action Plan Memorandum of Understanding. There is obviously still a pandemic influence over the growth rate as the economy didn't begin to recover until the last few months. The growth rate for the past 6 months is 25%. If we were to double that, then we would be roughly on pace with what we need. I will calculate a new required compound annual growth rate and include it in a subsequent post.
One hopeful sign is that the 4335 EVs registered in the first half ot 2021 was about the same as the total for all of 2020, which was 4408. (These may not be completely apples to apples as COVID affected how registrations were handled. I think it still gives a reasonable general picture.)
Fuel Type
The definition of EV in the file includes battery electric vehicles (BEV), Plug-in Hybrid Vehicles (PHEV), Fuel Cell (FCEV), and electric motorcycles (BEMC). Below are the numbers for each.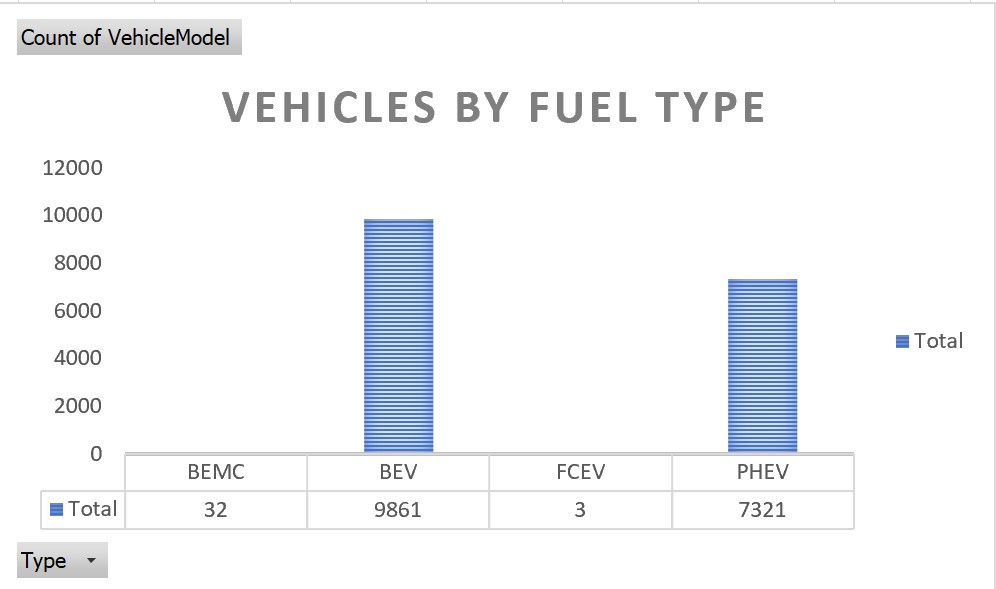 BEVs account for 57% of all EVs. The FCEV count remains where it has been as these are not sold in the state at this time. BEMCs went from 25 to 32.
Top EV Makes
Tesla continues to lead all EV Marques by a mile.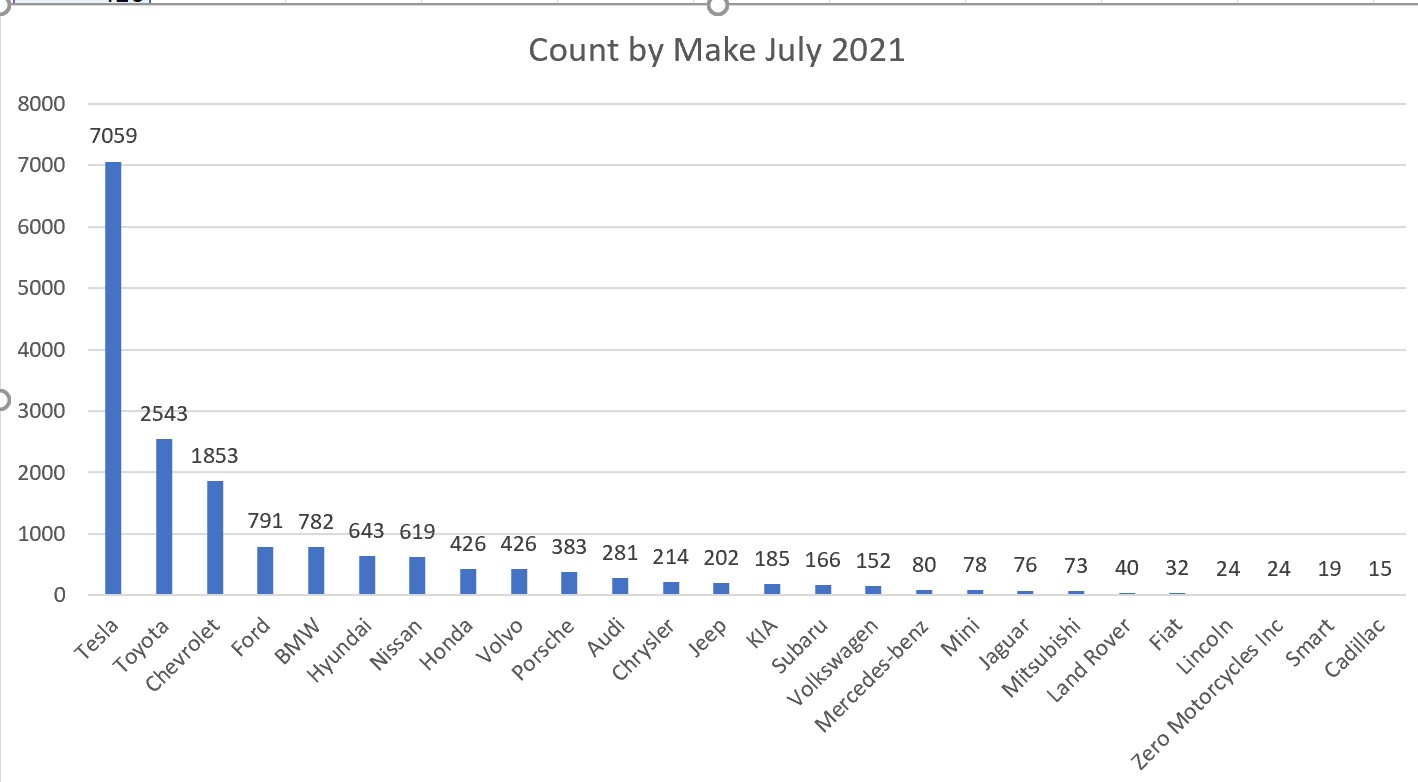 This pattern is consistent with what we have been seeing. There are a small number of makes that account for almost all registered, followed by a long tail. This chart includes any make in double digits, not a very high bar, but there are quite a few below that level. When the dashboard is updated, it will have the full list. The only real change is that Toyota had a nice increase of 33% from January. Toyota saw increased registrations for its Prius Prime models as well as a good start for the RAV4 Prime. Tesla had a 20% increase, obviously off a larger base. Chevrolet reversed its net decline and increased 9%. The net declines were caused by the discontinued Volts gradually declining. This implies an improvement for Bolt sales.
The top make is the Tesla Model 3, which increased 16% since January. The top models are below.
The Model Y has now surpassed the Model X. It increased 101% since January. You will note that some models have multiple names due to different names for different trim levels. This is how the file comes. I will consolidate it for the dashboard as I think that is an easier comparison to make for our purposes. There are 3 Prius variations and they total 2151, making it the second most widely registered EV.
Some New Brands
These is an arbitrary list and counts of some of the newer EVs on the market. In some cases, there are still limited production runs, so it will not be indicative of how successful the vehicle will be.
Audi Q5 Plug-in – 64
BMW X5 Plug-in – 252. This has quickly become the most widely registered BMW EV.
Ford Mustang Mach-E – 136
Jeep Wrangler Plug-in – 202
Polestar 2 – 8
Proterra Electric Buses – 4
VW ID.4 – 57
Volvo Xc40 Recharge – 31