CHEAPR Board Meets Following Passage of Public Act 22-25
Following the passage of SB-4/Public Act 22-25, the Department of Energy and Environmental Protection (DEEP) and the CHEAPR board met on June 16th. The legislation made extensive changes to the state's purchase incentive program, which we have detailed in earlier posts such as this one. Now comes the time for rule making to fill in the gaps and the implementation logistics. Though the legislation has an effective date of July 1, the fact is this will be a work in progress for the rest of the year. So with that preamble, this what we know to this point as well as our thoughts about changes we would like to see that follow the new legislation
MSRP Cap and Other Changes
The MSRP cap increase to $50,000 is the easiest to implement and it should happen at some point over the summer. We will update everyone when that is the case. (Update: This is now in place and updated on the CHEAPR website.)
The enhanced funding from the additional clean air registration fees and proceeds from the Regional Greenhouse Gas Initiative proceeds begins next year. However, the program has been so under spent, and there is still an implementation period, it is unlikely to deplete funds before the new funding stream begins. DEEP is currently sitting on over $5MM of funds, well above current needs. New expenditures flowing from program changes will be folded into the program as they are ready between summer and the end of the year. It is our bet that the year will end with a surplus.
DEEP is preparing an RFI for the new e-bike incentive with projected implementation by the end of the year.
The income limited (Rebate+) incentives will be transitioning from an after the fact reimbursement to a pre-qualification/voucher program. This is great news. It requires a new process be developed and implemented, which will take at least until Q4, though technically, the eligibility requirements will have been changed before then. In other words, some of the folks becoming newly eligible could access the incentive but would have to float the cash.
Expanded eligibility to municipalities, businesses, non-profits, and tribal entities are designated as "mid-term" changes and will likely happen in several month's time.
This graphic from DEEP indicates which new EVs will be rebate-eligible as a result of the change in the MSRP cap. Keep in mind that eligibility is determined by the base price of a particular trim level. Ordering options does not disqualify a vehicle from being eligible. Buying a trim level with an MSRP above the limit would. Almost all vehicles nowadays have multiple trim levels. Although we don't recommend doing this, if you pay a dealership premium over MSRP, that does not count towards the cap. The graphic is based on registrations from 2021. It will not pick up the newest vehicles which doesn't mean they are not (or should not be) included! If you encounter a problem in obtaining a rebate for which you should be eligible, please let us know.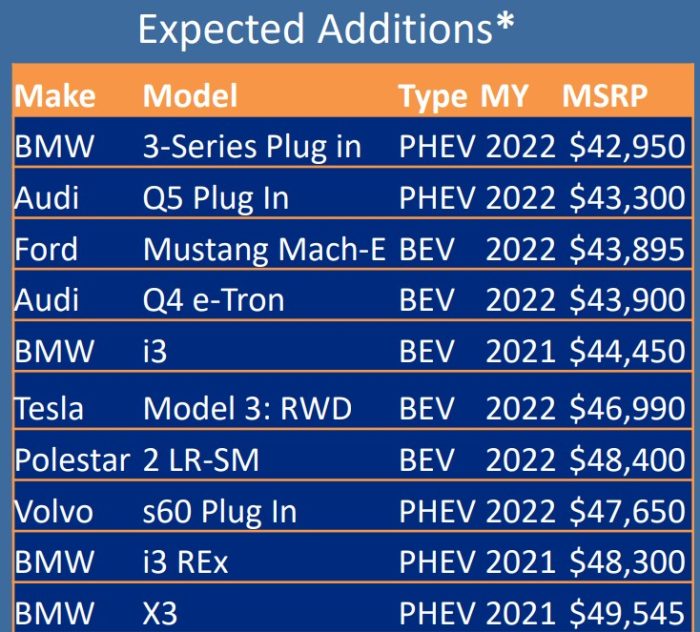 Rebate Structure
It is DEEP's responsibility to determine rebate structure and amount. We expect the amount of the income-limited rebates to increase.
The consumer's first interaction with CHEAPR is likely to be with the home page and what they see there is not what most people will get. For some reason, DEEP, from the beginning, has been intent on selling the highest possible rebate number that only applies to a minority (or zero in the case of fuel cell) of people.
There has been an overly complicated multi-tier rebate structure with base, adders, and supplements. A simpler structure of standard rebate, Rebate+ New, Rebate+ Used would be preferred. Rebate+ New would simply be higher than the standard rebate. Each of these would have a BEV/PHEV version. That's enough.
For Rebate+ Used, since recipients of this incentive are already income screened, don't restrict eligible vehicles. Let's make it easy for people to use this by not restricting it to vehicles that were originally eligible for a standard CHEAPR rebate as is now the case. There is some concern about battery degradation for older vehicles. There are tools available to address this, which dealers should be encouraged to adopt.
Reporting
There have been inconsistencies in the reporting from time to time. For example, in the recently released April data, the Tableau chart has 51 rebates. The Excel file has 59 rebate submissions (and 48 sales).
Rebate+ New is reported as a separate line. So the number of rebates exceeds the number of people receiving rebates. There have been so few of them that it hasn't made much difference. If the new LMI rebates are more successful, it will color the data. If the suggestion about Rebate+ noted above is adopted, it would solve this.
Add new fields for "Rebate Type" and "Dealership." The former will make it easier to parse the data. The latter will save the FOIA exercise that we go through each year.
DEEP is investigating reports that some of the finance companies that hold title to the vehicle for leasing customers are not participating in the rebate. Dealer representation on the board, possibly in concert with their affiliated manufacturers, should be proactive about working upstream with the finance companies to change this.
Dealers should take it upon themselves to be proactive about alerting DEEP when new eligible vehicles or new model years of eligible vehicles are about to start delivery. That way consumers won't get caught as a result of a dealer not being able to process a rebate because the database has not been updated.
DEEP issues a forecast periodically to project expenditures and use that for guidance in setting program parameters. The actual expenditures have come in substantially below the forecast every year since the current regimen was established in 2019. For various reasons, that may not continue to be the case. But even if the program is running hot, it will be easy to identify in plenty of time to make adjustments and avoid funds depletion.