CHEAPR Rebates Continue to Crawl – Revised Guidelines Needed
UPDATE: CHEAPR Board Meeting Scheduled for July 17th.
CHEAPR recently published updated stats through May 30. The recent trend continues. May rebates totaled 25. The breakdown is 14 BEV, 11 PHEV, and 0 Fuel Cell.
With the publication of the May dataset, CHEAPR restated its data for April. For those who saw the blog post regarding the April data, the 13 rebates have been revised to 17. It is not unusual that minor adjustments are made a little after the fact.
CHEAPR has been pacing severely under budget as defined by total rebate dollars awarded relative to a straight line pacing of the $3MM annual budget (i.e. $250K monthly). Any month where rebates are under $250K will cause this underage to widen. The amount rebated in May was $26,500 and the expended funds are now 81% under the pace number.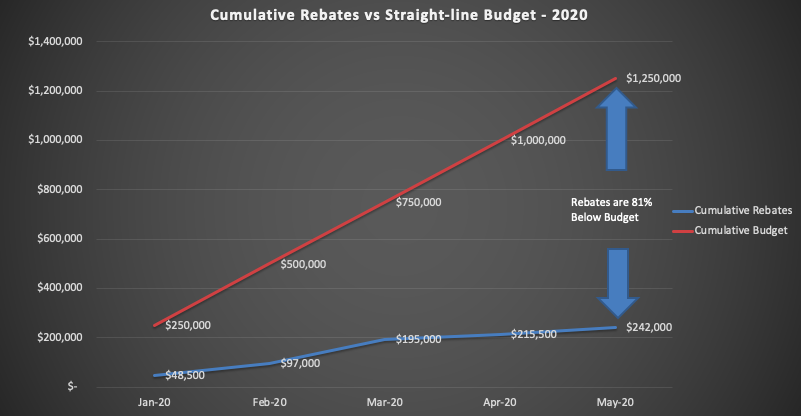 The most rebated vehicles were the Tesla Model 3 with 8 rebates and the Toyota Prius Prime, also with 8 rebates.
CHEAPR publishes stats on its website and makes an Excel download available, which is what we work from. There are two date columns and we use the application submission date rather than the sale date as that is what CHEAPR bases its own reporting on.
We have reached out to CHEAPR to request the names of the dealers associated with each rebate (for non-Teslas, obviously). Our request has been "escalated to management." It is common for our club to get asked for dealer recommendations by people in the market for an EV. By the time they contact us, they have usually already visited one or two dealers and it wasn't a pleasant experience. We have names of some dealerships that have been recommended by members, but this would be hard data and we think it will help, especially in areas of the state where we don't have a lot of members. We also understand its limitations and will act accordingly. Dealership-level info is published in some other states, NY for example.
The CHEAPR board is supposed to meet in July. We have not heard about a confirmed date. According to the website, the program will have some revisions for 2020 and we eagerly await to hear what they are. We feel the current structure is not working and have offered our input, which has been described in prior blog posts, such as this recent post from June 1.